On March 15th, 2019, a post was submitted to 8chan's /pol/ board announcing a planned attack that would be livestreamed on New Zealand resident Brenton Tarrant's Facebook page (shown below). The post was accompanied by an illustration of an Australian Shitposter and links to his manifesto.
That day, shootings took place at the Al Noor Mosque and Linwood Islamic Centre in Christchurch, New Zealand. The attacks were livestreamed by the shooter on Facebook, which showed the shooter entering a mosque while shooting a shotgun, before switching to an assault rifle and shooting people inside. During portions of the stream, the songs "Remove Kebab" and the Initial D song "Gas Gas Gas" could be heard playing in the background.
Developments
That evening, Twitter user Nick Monroe posted a thread with live updates about the shooting (shown below).
Meanwhile, Twitter user @MisterAntiBully posted a clip from the alleged shooter's livestream saying "subscribe to PewDiePie" (shown below).
Also that evening, the @ChannelNewsAsia uploaded footage of a New Zealand police spokesperson confirming multiple fatalities at two different mosques, and urging New Zealand residents to not visit mosques in the country (shown below).
Manifesto
In the document shared on 8chan prior to the shooting, the author professes to be an "eco-fascist," discussing the "great replacement" right-wing conspiracy theory and cites Turning Point USA's Candance Owens as an inspiration before also claiming the game Spyro the Dragon 3 taught him "ethno-nationalism" and that Fortnite taught him "to floss on the corpses of my enemies" (shown below).
Additionally, the shooter put a version of the Navy Seal Copypasta under the heading "You are a bigot,racist,xenophobe,islamophobe,nazi,fascist!" (shown below).
That day, an article titled "Shitposting, Inspirational Terrorism, and the Christchurch Mosque Massacre" was published by journalist Robert Evans on his personal blog BellingCat, which examined the use of memes and "shitposting" by the suspect.
Senator Fraser Anning's Response
That day, Australian Senator Fraser Anning released a statement about the shooting, stating "the real cause of bloodshed on New Zealand streets today is the immigration program which allowed Muslim fanatics to migrate to New Zealand in the first place" (shown below).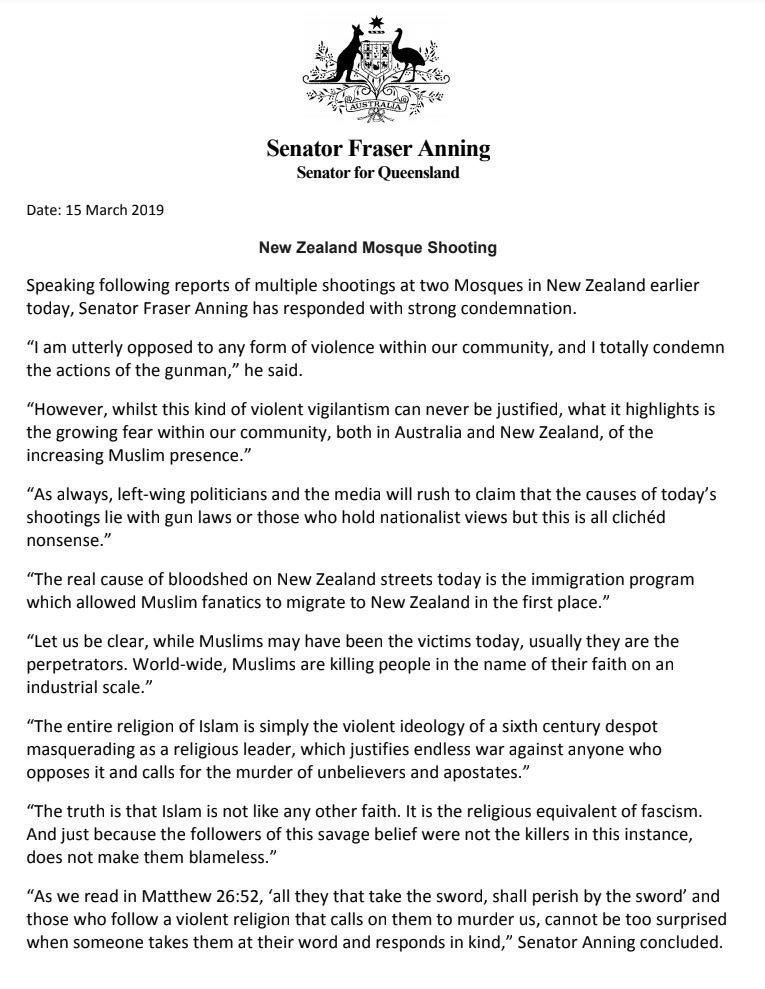 Shortly after, Twitter user @LATSeema tweeted the statement along with the message "I don't think I have ever seen a statement like this from an elected official after a terrorist attack."
PewDiePie's Response
Also on March 15th, 2019, PewDiePie tweeted that he was "absolutely sickened" that the shooter uttered his name (shown below). Within 24 hours, the tweet gathered upwards of 400,000 likes and 98,000 retweets.
Donald Trump's Response
The following morning, Trump posted a tweet expressing his "warmest sympathy and best wishes" and stating "The U.S. stands by New Zealand for anything we can do" (shown below).
Reddit Bans /r/WatchPeopleDie
That day, BuzzFeed tech reporter Ryan Mac tweeted that Reddit banned /r/watchpeopledie in the wake of the shooting, noting that "users were sharing links of the NZ video in the group last night" (shown below).
In follow-up tweets, Mac claimed to have spoken with a Reddit employee who revealed "it had a long debate about the continued existence of that subreddit," noted that /r/gore had been banned as well and posted a statement by Reddit saying "posting content that incites or glorifies violence will get users and communities banned" (shown below).


The Internet Reacts to the Christchurch Mosque Shootings
Reviewed by
CUZZ BLUE
on
March 16, 2019
Rating: