The Neo-Nazi Who Allegedly Killed Heather Heyer In Charlottesville Said "It Doesn't Fucking Matter" That She Died
The neo-Nazi accused of killing a woman in Charlottesville after driving his car into a crowd of protesters said "it doesn't fucking matter" that the victim died.
James Alex Fields referred to Heather Heyer, the woman he allegedly killed, as "that one girl who died, or whatever," according to a recording of a call he made to his mother from jail in December 2017. Fields is standing trial for premeditated murder, malicious wounding, and hit-and-run in Charlottesville.
On the call, Fields said that Heyer's mother, Susan Bro, was "one of those anti-white communists." According to a federal indictment, Fields "promoted his belief that white people are superior to other races and peoples."
"She lost her daughter," Fields' mother, Samantha Bloom, responded.
"It doesn't fucking matter. She's a communist," Fields said.
"Stop talking like that," Bloom said.
"It isn't up for questioning. She's the enemy, mother," he replied.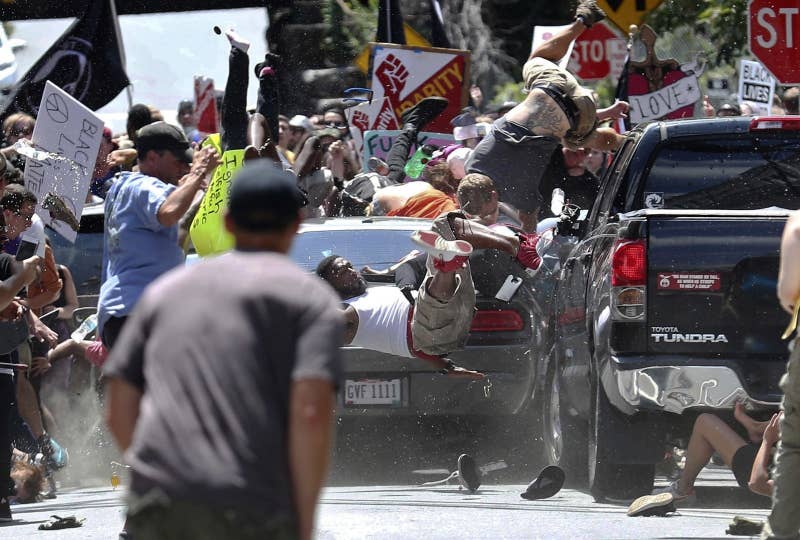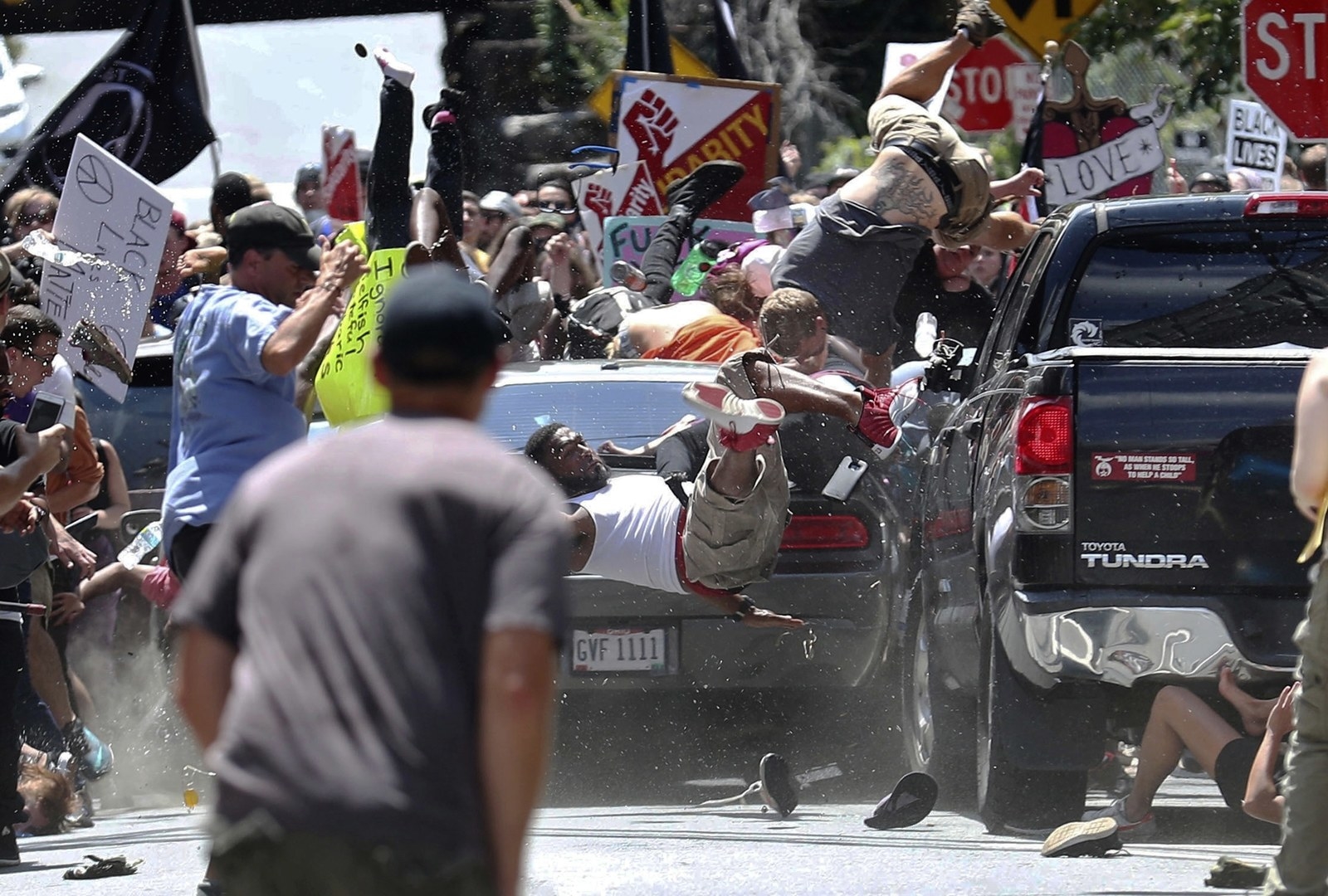 In another call made to his mother in March 2018, Fields pressed the point that he had been acting in self-defense in the car.
"I spent my life not doing anything wrong, then I get mobbed by a violent group of terrorists and jailed for defending my person," he told her. He added that he believed that people in the crowd had been carrying ISIS flags in support of the terrorist group.
Fields rammed through the crowd just after the Unite the Right rally on Aug. 12, 2017, an event convened as both a protest against the removal of a local statue of Robert E. Lee and a gathering of the country's most prominent white nationalists. The night before, hundreds of white supremacists carrying tiki torches had marched on the University of Virginia in Charlottesville.
Prior to introducing the jailhouse phone calls, prosecutors played a video of Fields taken in the hours after he plowed through the protesters with his Dodge Challenger. In that video, the 21-year-old expressed remorse and asked if the people he had hit were injured.
"I'm sorry for, for...I don't know. I didn't want to hurt people, but I thought they were attacking me. Even if they were attacking me, they're still people," he told an officer prior to his arrest.
Another video showed Fields sobbing and hyperventilating for several minutes in an interrogation room after a police officer informed him that someone had died as a result of the car attack.
Each of the crimes Fields is charged with — first-degree murder, malicious wounding, aggravated malicious wounding, and failing to stop at the scene of an accident involving a death — can carry a penalty of life in prison. He was also indicted on federal hate crime charges, which he'll stand trial for in 2019.
In his trial in Charlottesville, which began last week, his lawyers Denise Lunsford and John Hill have not contested that he was the driver, and have instead chosen to focus on his intent.
"You're here to decide why this event took place," Hill said in his opening statement. "Was Mr. Fields in fear of serious bodily injury or death?"
Prosecutors have pointed to memes of protesters being hit by cars Fields had posted to Instagram months before the rally, as well as a text he sent to his mother days prior, as evidence of his malicious intent. He wrote to her, "We're not the one [sic] who need to be careful" and attached an image of Adolf Hitler.
The phone calls and videos marked the first time the jury had heard Fields' voice during the trial. The prosecution's case had until then focused on gruesome and detailed testimony from victims of the attack, who have spoken about permanent, debilitating injuries and described the harrowing moment Fields hit the crowd.
"I heard screaming, very loud thumps, and saw bodies in the air. I was sure this would be my last second, and I was pretty frustrated that that's how my last second would be," said Thomas Baker, who was captured in midair in a Pulitzer Prize–winning photo taken as the car hit the crowd. The collision tore several of Baker's ligaments and broke his hip in multiple places.
The prosecution rested its case shortly after playing the videos and audio clips Tuesday. Fields' defense began by filing a motion to strike nine of the indictments against him, which Judge Richard Moore denied. Lunsford and Hill then called police officers to the stand to speak about how they found no weapons in the defendant's car and his compliant, calm demeanor around the time of his arrest.
Organizers conceived of the Unite the Right event as the zenith of the white nationalist alt-right movement, which had been gathering steam since 2016. Heyer's death deflated that momentum, however, and galvanized a fierce opposition against the groups and individuals involved. In the year since, members of the alt-right have time and again been kicked off social media, shouted down at their own rallies, and sent to jail.
The Neo-Nazi Who Allegedly Killed Heather Heyer In Charlottesville Said "It Doesn't Fucking Matter" That She Died
Reviewed by
CUZZ BLUE
on
December 05, 2018
Rating: